Valentine's Day, like any other holiday, offers a crucial opportunity to boost your sales. This is especially true given that it sits in the middle of what is typically a slow season for companies. 
To make the most of the holiday to boost your sales, you need some solid Valentine's Day marketing ideas. If you are unsure where to start, consider the following tips and strategies. Each of them will give your business a nice boost this time of the year. 
When should I start Valentine's Day marketing campaigns? 
There is no single answer to when you should start your Valentine's Day marketing campaigns. The common theme, however, is that you should start them early. Remember that most people buy gifts for their loved ones before the holiday. You want to advertise early enough to reach them before they buy something else. Promoting early is even more critical if your product is personalized and has a longer delivery time. 
If you want to take early advertising to an extreme, you could theoretically start advertising in December. While some companies do this, it typically isn't necessary. 
A more realistic approach is to make sure to start your Valentine's Day campaigns by February 1st. 
Valentine's Day marketing stats
As you plan which of our Valentine's Day marketing ideas you want to incorporate and how to do so, it can be helpful to keep some statistics in mind. 
The following statistics should give you a good starting point: 
Single men spend an average of $71 for Valentine's Day.

Single women spend an average of $40 for it.

Twenty-two percent of searchers on Bing.com completed the search "Valentine's Day gifts for …." with "husband," followed by "friend" with 20% and "boyfriend" with 17%. 

Forty-six percent of people start shopping for Valentine's Day in February. 

As of 2016, 19% of people gave their furry friends Valentine's Day gifts. 

Fifty percent of marriage proposals are on Valentine's Day. 

Thirty-four percent of people eat out on Valentine's Day.
With that in mind, take a look at some of our Valentine's Day marketing tips and strategies. 
# 1: Thank your subscribers
Use Valentine's Day as an opportunity to show some love to your list of subscribers. After all, Valentine's Day is all about love, so it is the perfect time to show that you love and appreciate your customers. 
You can do so in several ways. Start with a simple "thank you" message to subscribers or customers via text or email or on your social media pages and website. Or consider offering discounts or bonus loyalty points. 
You can even offer your subscribers a free gift with purchase on or around Valentine's Day.
#2: Offer more benefits or run a Valentine's Day sale
It should go without saying that a great way to attract customers as part of your Valentine's Day marketing is to run a Valentine's Day sale and other promotions. Remember that how, where, and when you offer the deal is just as crucial as what you're offering. 
Don't forget to consider offering free shipping as well with your Valentine's Day deals. Free shipping is an example of how you can provide other benefits than a traditional discount. 
#3: Target last-minute shoppers
The part of your Valentine's Day marketing directed at last-minute shoppers should create a sense of urgency. Consider including a countdown until Valentine's Day to drive this home. 
You can also appeal to these last-minute shoppers by offering discounts, especially for them.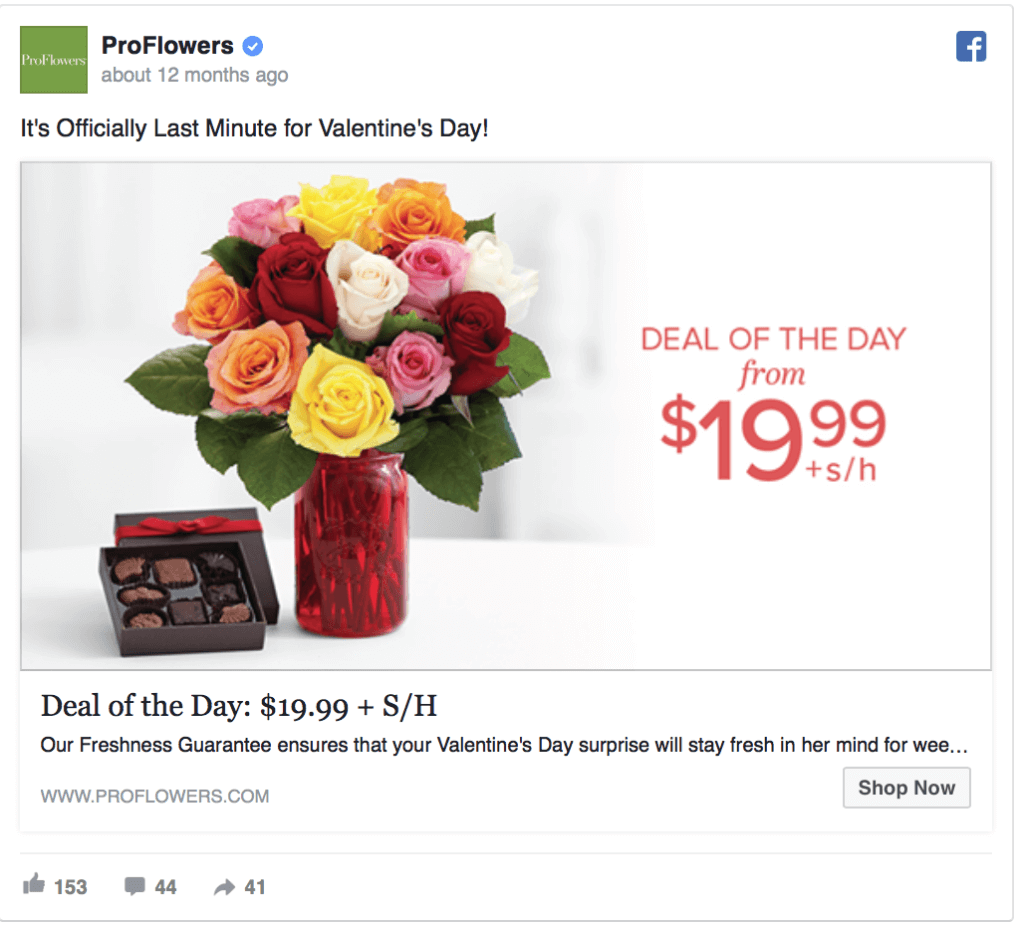 Another great way to appeal to last-minute shoppers is to promote fast delivery and specifically mention that their purchase will get there by Valentine's Day. You can even combine this with other ideas, such as making a countdown showing how long they have left to order and receive the item by Valentine's Day. 
Or consider offering gift certificates that are entirely digital or can be printed at home. This is a great way to provide an option to those truly last-minute shoppers who can't leave the house. 
#4: Create unique Valentine's Day slogans
One of the best ways to stand out from the competition is via Valentine's Day marketing slogans. You want to create something that is unique, so stay away from "Be My Valentine" or something else that is equally as typical options. 
The following Valentine's Day marketing slogans should provide you with some inspiration. 
"Fancy a Date with Dominos?"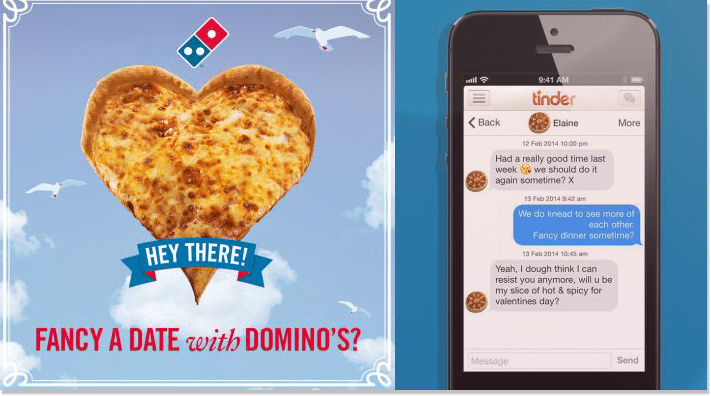 You could also just feature a romantic quote or generic slogan and customize it for your company. 
#5: Offer gift guides 
For many people, the most challenging part of Valentine's Day is knowing what gifts to give. Overcome this by crafting a Valentine's Day gift guide. Obviously, you will want to promote your products in the guide. For the best results, offer the gift guide on your website, on social media, and as a printed copy in your store. You may even want to set up a gift-guide display in your store. 
You may even want to work with other local businesses to create a community gift guide that includes items from everyone's stores. This will help all of the businesses involved gain new customers. 
You can also take another approach to the Valentine's Day gift guide idea and create gift bundles. This is a great way to encourage people to make a larger purchase without having to decide which items they want to buy. 
#6: Use targeted popups
Number six of our Valentine's Day marketing ideas is to use targeted popups. This is an excellent way to promote sales. After all, targeted popups let you easily collect leads for your email list any time of the year. Popups are commonly regarded as the best method of getting high-quality leads without affecting the user experience.  
As always, you can make the popups more effective by advertising an offer, such as free shipping or a discount code, when people sign up. 
#7: Redefine Valentine's Day
Highlight that Valentine's Day is not just for couples. Remember that 59.4% of people buy Valentine's Day gifts for their families. And 27.1%, 20.4%, and 12.1% buy for their friends, teachers, and colleagues, respectively. 
Keep this in mind as you craft your marketing campaigns and create ads that emphasize the idea of buying Valentine's gifts for anyone special in your life, even if you don't have a romantic relationship with them. 
Promote self-love
Take this idea a step further and promote self-love. By promoting self-love to those who aren't in a relationship, you can dramatically expand your audience. After all, anyone can buy a gift for themselves. 
In fact, one survey found that 14% of women chose to send themselves flowers on Valentine's Day. 
#8: Offer a limited edition product
Depending on your business, you may also want to consider the Valentine's Day marketing strategy of creating a limited edition product. This strategy will work wonders because scarcity and exclusivity play on the fear of missing out and drive sales. 
For an example of this, look at BarkBox, which offers a limited edition Valentine's box filled with treats for their canine customers. 
BarkBox took the above example a step further by including the image as part of an email where they said, "Treat your sweetie" and "Show your dog you really love them." These sentences played on the affection that dog owners who are already on the BarkBox mailing list likely have for their dogs. 
#9: Boost authenticity by showcasing customer photos—inspire with user-generated content
Use your Valentine's Day marketing ideas as a chance to connect with your customers. You can help them feel as if your business is authentic and part of the community by showcasing customer photos. 
A great way to encourage customers to share photos is via a contest or hashtag. You can then promote these photos on your social media pages and website. 
#10: Use SMS to offer customers exclusive savings
Take advantage of SMS marketing and offer exclusive savings via text messages. Text marketing is also a great way to promote your sales or discounts for the holiday. 
For example, consider sending VIP members text messages with discount codes for exclusive savings. 
#11: Encourage customers to spread the love with referrals
There are plenty of ways you can encourage referrals and reviews. For example, offer more loyalty points or offer a discount or bonus. If you reward customers for sharing deals with their family and friends, you will see more people doing so, growing your audience. 
To further encourage this, make sure that you create advertising messages that are easy to share with others. 
Conclusion: Why Valentine's Day marketing Is relevant to your business
With the right Valentine's Day marketing strategies, you will find yourself easily attracting customers during this romantic holiday. The right marketing strategy will attract people to buy for their friends, family, pets, and even themselves as well as those looking for romantic gifts. The above Valentine's Day marketing strategies should give you a good starting point.