In the age of internet search and e-commerce, customer reviews are the virtual word of mouth that could make or break your business. Not only do they provide you with valuable insight into the performance of your business, but reviews give potential customers proof of how you will treat them.
In fact, 90% of consumers read online reviews before visiting a business, and online reviews impact more than 67% of buying decisions. Online reviews are a highly trusted source of information, with 85% of people trusting them as much as a personal recommendation from a friend or family member. Imagine that—a five-star rating of your product or service from a random internet stranger is as influential to potential customers than a personal endorsement from their mom.
Why Your Business Needs Good Reviews
Let's dig deeper. Less-than-ideal reviews can harm a business' performance, discouraging consumers from engaging with your business. Did you know that businesses with two negatives on the first page of search results risk losing 44% of their customers? Throw in another negative to the search query, and that potential for lost customers increases to more than 59%.
On the other hand, positive reviews are immensely beneficial to your business and bottom line. Favorable reviews foster trust in your business—74% of consumers say that positive customer reviews make them trust a local business more. And more than 63% of consumers trust businesses with overall ratings of 4 or 4.5 out of 5 stars, while 87% of consumers said they wouldn't visit a business with less than 3 stars.
Because more than 57% of consumers will eventually buy from a business they researched online, you want the reviews that potential customers find about your business to be positive and encouraging endorsements.
Features of a Five-star Review
So what does a good review actually look like? What are the components of the type of positive reviews you want your business to receive?
The content and frequency of online reviews are likely going to vary by industry and review site, but good reviews—the glowing ones you want doing the advertising legwork on behalf of your business—have a few key characteristics in common.
Detailed and Specific
97% of consumers read online reviews before making a buying decision, so you want your reviews to provide the information consumers need to engage with and buy from your business. The vague "It was good, the end" reviews don't offer online searchers much in the way of helpful information to guide their buying and visiting decisions. Plus, it doesn't give your business the valuable constructive feedback it needs to help you improve or accurately gauge the performance of your business.
Mentions Specific Employees by Name
Who was it that helped your customer? A good review identifies members of your business team by name. Not only does it motivate your employees to continue performing well, but it gives your business the confidence-building benefit of a humanizing touch. Consumers (and ideally, those future customers) want to know that real, helpful people—not just unfeeling machines—will be attending to their needs.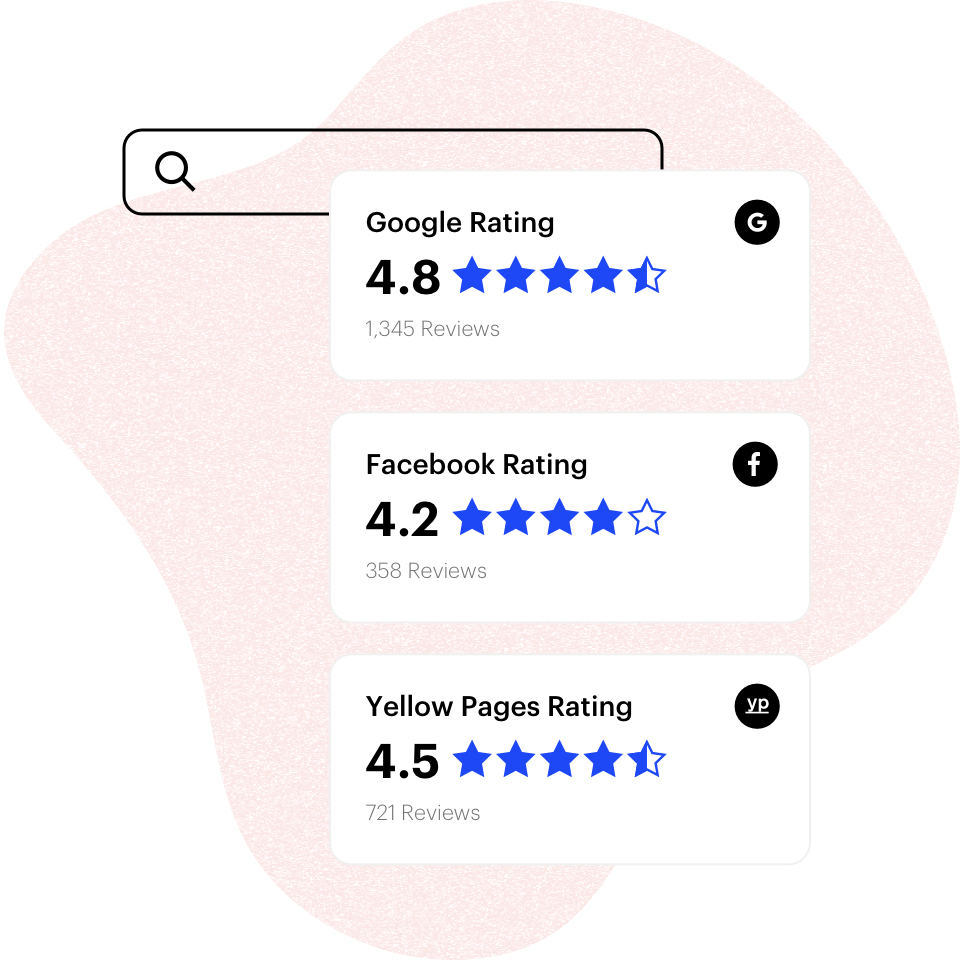 Identifies Strong Customer Service Principles
There's likely not much more important to customers than interactions with businesses that involve gold-star customer service. In fact, U.S. companies lose more than $75 billion annually due to poor customer service. Whether reviewers realize they're doing it or not, you want them to highlight a positive customer experience and the specific and brand-distinguishing ways that your business goes the extra mile to make customers happy. This will prompt other searching consumers to bring their dollars to you.
On the other hand, poor customer service will prompt customers to leave negative reviews—Americans tell an average of 15 people about a poor service experience, versus the 11 people they'll tell about a good experience. It will also influence to take their business elsewhere—33% of Americans say they'll consider switching companies after just a single instance of poor service. Not ideal.
Has a Response
Businesses, this is (one of the ways) where you come in. Customers expect you to respond to their reviews. In fact, 30% of consumers identify that a business' response to reviews is key when judging local businesses. In fact, 89% of consumers read a company's response to reviews, and 7 in 10 have said that a business' response to a review has changed their opinion about that business.
But still, the majority of consumers say that a business has never responded to their review. If you're not already monitoring your reviews with online tools, now is the time to start. It's a key part of inviting more positive reviews and proactively managing your online reputation.
Features User-Generated Content
Positive photos of customers using your product or service or displaying it in real-life situations demonstrates an extra level of effort that not only proves their loyalty to your business, but it allows other consumers to see your goods in action, which can help them make informed shopping decisions.
10 Examples of Great Reviews from Real Customers
Now let's get into the fun stuff. Here are some real life examples of 5-star reviews.
1. "I could not be happier with my results. I have gotten both my lips and done at Pura Vida and this is the best they've looked in the 10+ years of me getting filler. I've had a great experience with Pura Vida and have gotten honest answers to all my questions." – Samantha P.
2. "Quick service & very trustworthy. Worked with Tom Nolan on a quick fix on my mirror. He was very knowledgeable about potential issues before getting into it & was able to get it fixed very quickly. I would trust them with any future repairs, I would not take my car anywhere else." – Tessa T.
3. "Took care of my insurance needs. Looked for the best rates. Best insurance agent by far. Honest and trustworthy. Thank you Gil. We appreciate your hard work! Highly recommend!" – Gerardo S.
4. "Jon and the entire Valley Roofing Staff were very professional and were great to work with. They were always on time and finished the job when they promised. Their work was excellent and their cleaned up after the job was complete was excellent. I would definitely use them again and would recommend them to anyone needing an excellent roofing company." – Chad M.
5. "Amazing car buying experience! Shopped around 3 different dealers and Power Ford had by far the most friendly staff and comfortable show room. The sales team was fantastic as well as the finance manager. From start to finish everything was beyond expectation." – David S.
6. "Carlos was the best! He was very patient as I tried out a lot of beds, never rushed me and made the whole process very smooth. I felt like he was honest, there were no hidden fees. It was a great experience!" – Rebekah H.
7. "This place is great! They have a huge selection of all kinds of instruments, a beautiful show room, and the most friendly staff I've encountered in a long time. I got a better deal than I was in expecting on an electric piano. I'll definitely be back!" – Wolfen F.
8. "Guyou did an excellent job installing solar on my house! The workers were prompt and professional and cleaned up after themselves daily. The work was very well done and blends perfectly with my roof. Everything has been working great and they are prompt with responding to any questions." – Gloria S.
9. "Buying from Liberty was a great experience. The team was very knowledgeable and patient with my questions. They were very helpful when I wanted to adjust my orders.Friendly and highly competent folks.
Excellent…I would give them my highest recommendation!" – Francis X.
10. "Joel and Christine made what would have been a chore for me having to pick out blinds, a fun experience. They are geniuses at what they do. Their product is top-notch. They love their jobs, but more over, they love their clients! Out of five stars, I give them six!" – Allyson L.
Best Platforms for Online Reviews
So now you know why reviews matter and what a great review looks like. But…where do you focus your efforts? As you get started, we'd recommend gathering reviews on at least a couple of the following sites.
Google
Facebook
Capterria
TripAdvisor
Foursquare
Yelp
Once you've established a presence on some of the big platforms listed above, you can start to think about industry-specific sites.
How to Get Good Reviews of Your Business
So you're not going to buy reviews (read why that's a big mistake), so how do you actually get consumers to positively review your business? Work to implement these five tried-and-true tactics.
1. Solicit Them
It's basic, but you can't expect something you don't ask for. More often than not, happy customers are willing to share their good experiences with a review. In fact, a reported 68% of consumers left a local business a review when asked. So ask! Follow up with customers after a purchase, thanking them for their business and kindly inviting them to share their experiences with your product or service. If you're making the greatest efforts to produce a good product and satisfy your customers, then you will be rewarded with positive reviews.
2. Consider the Ask
In addition to simply doing the asking, consider your approach to soliciting reviews. Vague questions will likely warrant vague answers, so make sure to customize your feedback forms with specific questions or prompts to get valuable insight into your business, and other online searchers. Your method of soliciting feedback could mean the difference for the growth of your business. For example, instead of simply asking, "What did you think of our product?" you might ask, "How did our product meet your particular need or want?"
3. Engage with Customers
As we mentioned, the best reviews feature engagement from your business, responding to their comments, questions, and concerns. It's not just good business—it invites more engagement and growth.  41% of consumers say that business' review responses make them believe the company really cares about their customers, so get interactive.
But don't just be satisfied responding to reviews after a purchase is made; work to engage with customers (and potential customers) at each different phase of their customer journey, so they know that your business really cares.
4. Concern Yourself With Customer Service
We already emphasized that good reviews typically identify strong customer service principles that your business demonstrates, so to warrant these gold-star reviews, you need to make top-notch customer service an elemental part of your business. By providing an above-and-beyond customer service experience, you're setting yourself up for the ultimate ROI—good reviews and more business.
5. Go the Extra Mile
Consider this the all-encompassing principle of how to invite good reviews for your business. In whatever field or industry your business operates, seek to distinguish your brand by not only meeting but exceeding customer expectations. The more you can do to stand out from your competitors, the more your customers will be motivated to spread the (virtual) good word.
Podium improves your online reputation by helping you collect more reviews. But it's more than just reviews.
With Webchat, your customers can start a text conversation with you directly from your website. So while they get the convenience of texting your business, you get to keep the conversation going from your centralized Podium inbox without being tied to a desk or a device. Great reviews might help customers find you, but a seamless customer journey will keep them coming back.
For your business to grow, it needs good reviews. That much is clear. But don't leave your ratings—or your online reputation—to chance. Knowing what makes a good customer review, you can now do your part to increase the chances that happy customers will flood your business with positive reviews and their virtual seal of approval.
FAQs
Should you respond to negative reviews?
Responding to reviews—the positive ones, the negative ones, and even the neutral ones—shows customers that you care about their experience with you. When responding to a negative review, be sure to address the reviewer by name, apologize for the negative experience, and tell them how you plan to make it right. If necessary, you can suggest moving the discussion offline.
How to respond to a positive review?
When responding to a positive review, address the reviewer by name, thank them for doing business with you and for leaving the review, and let them know you look forward to doing business with them again in the future.