Google Reviews Link Generator
Enter your business name below to get started creating your free Google Review Link.
How to Create a
Google Review Link
It used to be that word of mouth and recommendations from friends or family was the best way to get new business—today all it takes is a Google search. If you're a business owner, you understand that customer reviews are one of the most powerful tools for generating new business and that adds more weight to having your Google Review Link. In a matter of seconds, someone can perform a Google search for your business, read a few Google reviews, and have the information they need to make a decision. That means the difference between three stars and five stars can have a big impact.
If you want to gain the trust of prospective customers, you're going to need positive customer reviews. The best way to generate more valuable reviews is to make it easier for your customers to leave them—and one of the simplest ways for you to encourage customers to leave a review is by creating a Google review link.
Finding Google Review Link Through Google Business Profile
Go to the Place ID Lookup Tool on Google:

Open Google's Place ID Tool. This is a simple generator that gives you a unique identification code for your business. Google uses this code to locate your business in Google Maps.
Find your business and access your Place ID

To get your Place ID, type your Google My Business name into the "enter a location" field and select it from the drop-down. Once you've selected your business, the map will auto-adjust and your Place ID will appear on the map.
Your Place ID is the 25 character string of letters and numbers displayed beneath your business name. All you need to do is copy your Place ID.
Add your Place ID to the provided Google URL

Next, you'll paste your Place ID at the end of the Google review URL, replacing <place_id> with your Place ID. When your Place ID is added it should look like this: https://search.google.com/local/writereview?placeid=PASTEPLACEIDHERE
Review Link Process with Podium
Podium allows you to manually text customers a tailored Google Review invite, or send automated review invites based on a specific customer touchpoint like a completed transaction.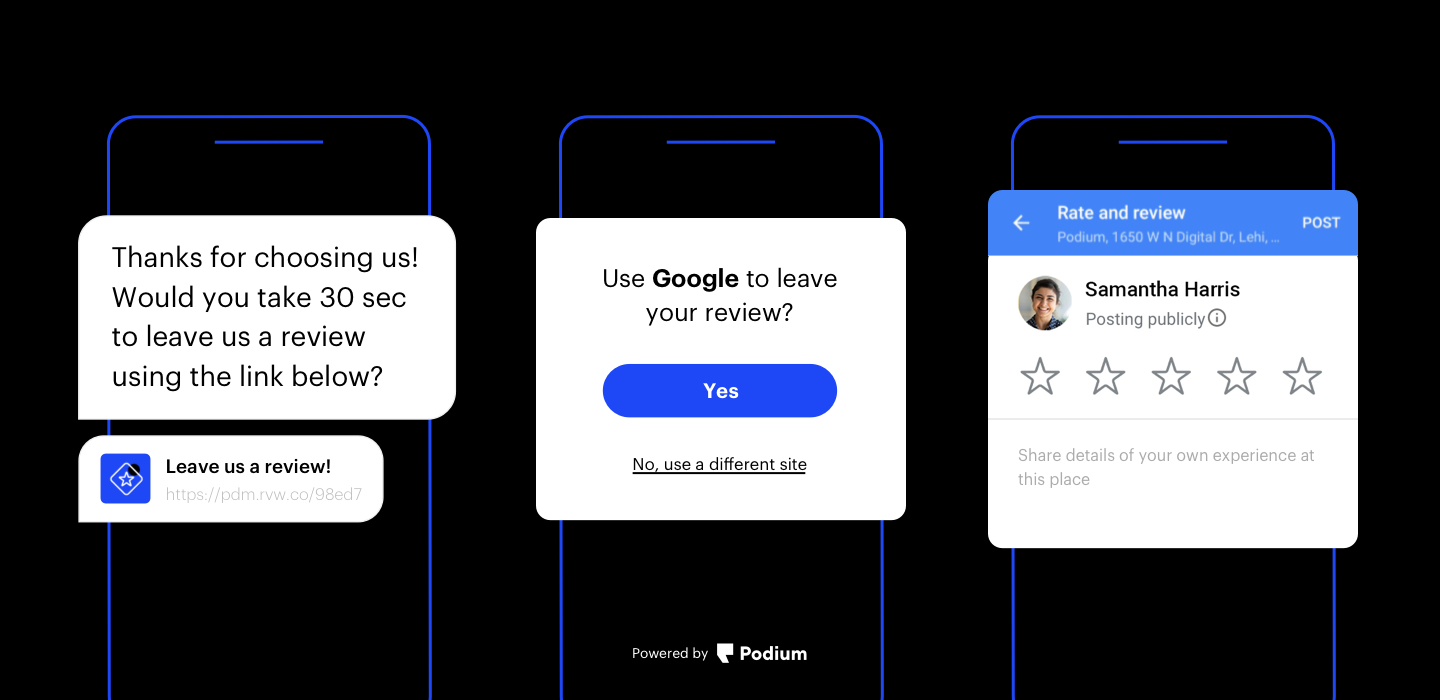 What is Google Review Link and Why Do You Need One?
Getting customers to leave you a review isn't as difficult as it might seem—usually all you have to do is ask. The only problem is that the standard process to leave a review on Google is long and complicated. So if you're going to ask a customer to leave a review, you should make it as easy as possible.
What is Google Review Link?
Google review links are direct links that customers can use to write a review on your Google My Business Page. With a direct link, customers can post a review in just a matter of seconds instead of navigating the longer, 6-step process for how to leave a Google review.
The best part? Setting up your Google review link isn't difficult—and once it's set up you can use it in a lot of different ways
Why You Need a Google Review Link?
More often than not, the first point of contact between potential customers and your business happens on Google.
In order to deliver the most relevant results to users, Google not only needs insight into what your business does but also into the quality of your products and services. Google's search engine uses your reviews to determine where you rank in the search results—if you have good reviews, your business is more likely to be favored by the search engine and show up higher on the results page.
If you want to increase your visibility on Google, you're going to need good reviews, and the best way to get better reviews is to get more of them. Google review links make it easy for your customers to review your business. With just one click customers can send and post a review to Google.
How to Use Your Google Review Link to Get More Customer Reviews
Now that you have your Google review link, all you have to do is share it with your customers. Here are some quick, easy ways you can use your link to start generating reviews:
Send a "Thank You" email to your customers and asking them to leave a review about their experience.

Include your unique Google review link on your website

Use a custom QR code printed on brand materials

Automate your review acquisition process by using an online review management software like Podium.
3 Tips to Get More Customer Reviews
While your Google review link will help you get more online reviews, having a customer-centric approach to asking for reviews will help you even more—it puts the customer first and demonstrates that they matter to you.
Here are 3 ways you can improve the quality of your reviews:
Don't just ask for a Google review, encourage your customers to give honest and specific feedback.

Explain to customers that their reviews help you improve your service, products, or customer experiences.

Ask for feedback immediately following service. It's easier for a customer to leave a review when their positive experience is fresh on their mind.
Remember, not every review will be positive. Use negative reviews as an opportunity to improve your customer service. Learn how to respond to negative reviews and implement feedback in a way that makes past, current, and future customers feel valued. The more proactive you are, the faster you'll be able to establish trust and generate more positive reviews. It may not happen overnight, but with the right approach and the right tools, you'll earn your five-star results and plenty of new customers.
Why Google Reviews Matter
Online reviews can make or break your local business. They're the modern-day word-of-mouth and they help potential customers decide whether or not they want to do business with you.
Improve your business processes.

Gain visibility online.

Build trust and improve customer relationships.
How to Respond to Reviews
Responding to reviews shows customers that you care about the experience they have when they do business with you. It's important—but we get it, responding can be daunting.
Here are some tips to help you get started:
Respond in a timely manner.

Personalize the response.

Express gratitude for their feedback.

If the review is negative, apologize and try to make things right
Watch a demo to learn more